SER Sint Maarten attends SER Aruba 35th anniversary.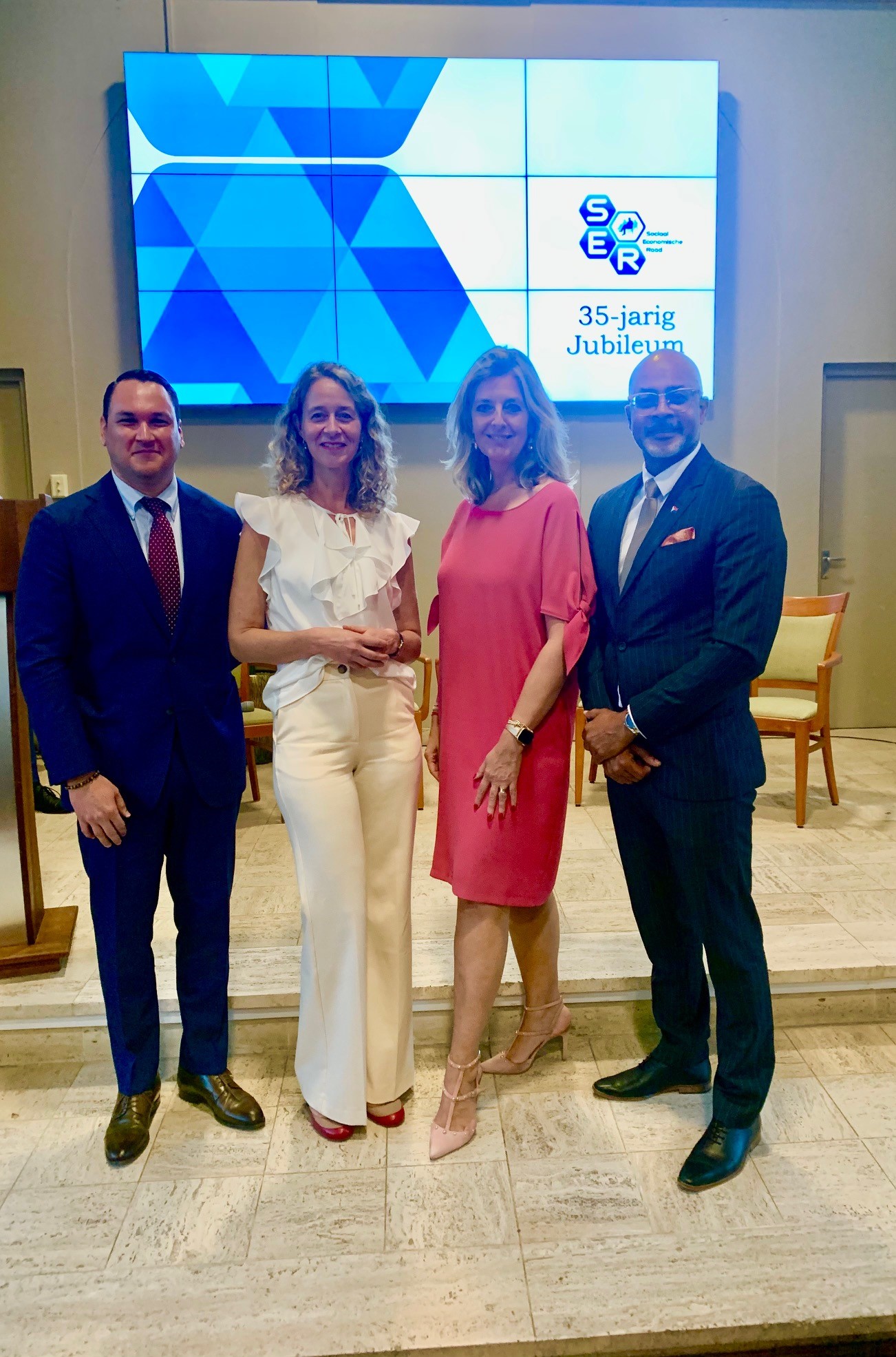 The Social Economic Council (SER) of St. Maarten attended the celebration of SER Aruba 35th anniversary last Wednesday. The SER of Aruba was established in September 1987, and therefore celebrated their coral jubilee this year in the presence of their Caribbean and Dutch counterparts. At the event, Honorable Prime Minister Evelyna Wever-Croes reflected on the history and the role of the SER in Aruba, the contributions made by the advisory body and the future role of the institution. The Prime Minister was joined by the Minister of Economic Affairs, Communications, Sustainable Development, Geoffrey Wever, His Excellency, the Acting Governor Agustin Vrolijk and the members of Parliament who all wished SER Aruba continued success.
The keynote address was given by Director of SER Brabant Advies, Ivka Orbon. She addressed the audience while discussing '`Polderen' in Brabant and the added value of integrated advice. The polder model is a method of consensus decision-making, it is based on the Dutch version of consensus-based economic and social policymaking which was implemented in 1950's during the establishment of the SER in the Netherlands.
The SER of St. Maarten was represented at the ceremony by Chairman Damian Richardson, accompanied by SER Secretary-General, Gerard Richardson and Senior Policy advisor, Sharon Arnell. Chairman Richardson in his congratulatory speech referred to the economic development Aruba realized since it attained its Status aparte, and the pivotal role the SER Aruba played in ensuring social harmony between employers, employees, and independent experts which in turn led to a balanced economic growth. The Chairman also discussed the history of social dialogue on St. Maarten and some of the challenges faced by the institution in the beginning stage of its establishment.
As St Maarten is a young constituent country in the Dutch Kingdom and Aruba has over 35 years of experience, the SER Chairman expressed the hope of a long-standing and fruitful cooperation between the two SERs.