SER presents joint Migration Symposium report to Prime Minister Romeo Marlin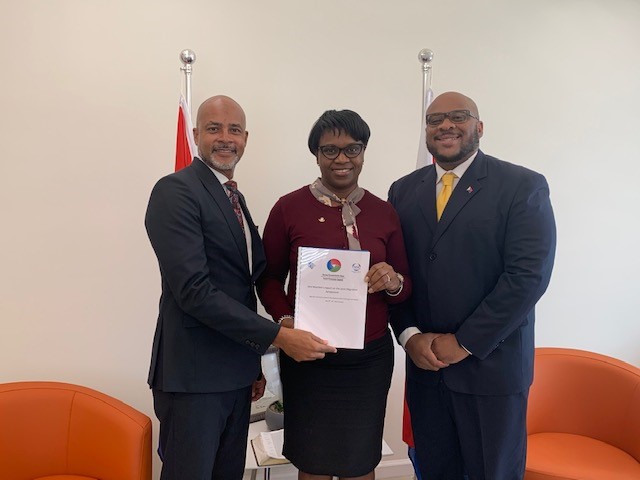 PHILIPSBURG – The Social Economic Council (SER) represented by the Chairman ir. Damien Richardson and the Secretary-General, Mr. Gerard Richardson paid a visit to the Honorable Prime Minister Leona Romeo Marlin, and presented her with the SER's joint Migration Symposium report. On October 26th 2018, a cooperation protocol in the field of labor migration and population policy, was signed by the Prime Ministers of Aruba, Curacao and Sint Maarten. The three Prime Ministers gave their full support and endorsed the initiative of the SER's of the three countries to organize a joint symposium on the theme. As result of the signed protocol a joint symposium was organized by the SER's of Aruba, Curacao and Sint Maarten on May 9th-10th on Curacao.
The objective of the joint symposium was, to explore, together with stakeholders, policy options with respect to the question 'how to optimize the benefits and minimize the cost of labor migration in relation to sustainable socioeconomic development of the three countries.The two day event was well attended and featured local as well as international speakers. The presentations were from a wide field of participants from employee representatives of the various (international) organizations in the field of migration, such as: International Organization for Migration (IOM), United Nations High Commissioner for Refugees and International Organization for Migration (UNHCR) and Caribbean Migration Consultants (CMC). In addition, to the various international organizations there were some Independent think tanks present such as; Think to do Institute Curacao, Migration Policy Institute Washington, Center of Public Policies, Instituto de Estudios Superiores de Administración (IESA) Caracas.
There were also major employer organizations such as the Aruba Trade & Industry Association (ATIA), Sint Maarten's Hospitality and Trade Association (SHTA) and the Curaçao Companies Association. Nonprofit organizations (NGO's) such as; Human Rights Caribbean, Refugees International as well as the Canadian Embassy in Bogota and Academics from the University of Amsterdam (UvA), University of Curaçao (UoC) and the University of St. Martin (USM).The board, management and staff of SER Sint Maarten, were pleased with the support shown by the Honorable Prime Minister, Leona Marlin-Romeo for her unwavering support throughout the entire process. The Prime Minister of Curacao Hon. E. Ruggentaath and Aruba the Hon. Evelyn Wever-Croes were also thanked said the press release. SER Sint Maarten took the opportunity to thank their sister organizations SER Aruba and SER Curacao for well-organized event. The Ministry of Justice, the SHTA, the University of St. Martin and the Vice-Chairlady of the Council of Advice of Sint Maarten were thanked for presence and support.