SER donates computer and office supplies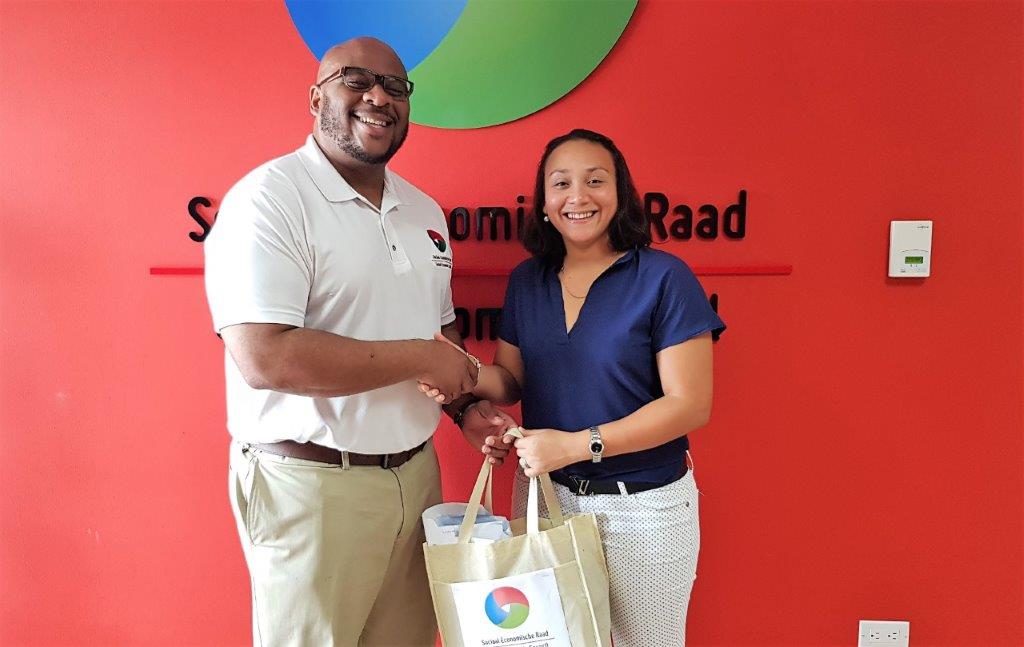 HARBORVIEW– In its efforts to strengthen the working relationship with other government entities, on Tuesday, August 13th, an introductory meeting was held between the Secretary Generals (SG) of the Social Economic Council (SER) and the Committee of Civil Servant Unions (CCSU). The purpose of this introductory meeting with CCSU was to explore possible future collaborations, on important Social Economic matters. The CCSU expressed its willingness to collaborate with the SER on legislation that has effect on government employees, such as the pending Pension Reform Legislation for Civil Servants.
fter the meeting, the SG of the SER expressed his understanding of the challenges that an organization such as the CCSU faces in the process to properly establish itself as a professional and respectable organization within Government and the Public Sector. The SER stated that "the institution can relate to the current challenges CCSU is facing with reference to the process of acquiring office supplies to be able to execute its tasks in a more efficient manner. It is for this reason that the SER donated several items to the CCSU such as a desktop computer, laptop, printer, and other important office supplies. Many of these items were purchased by the SER, during its startup phase in 2011, which was carried out through the former Dutch funding agency, Uitvoeringsorganisatie Stichting Ontwikkeling Nederlandse Antillen (USONA).
The CCSU thanks the SER for this much needed assistance, which donation will help the CCSU to continue to play its critical role in safeguarding the rights of civil servants and serve as a competent stakeholder to both the Ministers of General Affairs, Justice, and other ministries.