SER reminds Govt of its advice on dump, calls for speedy sollution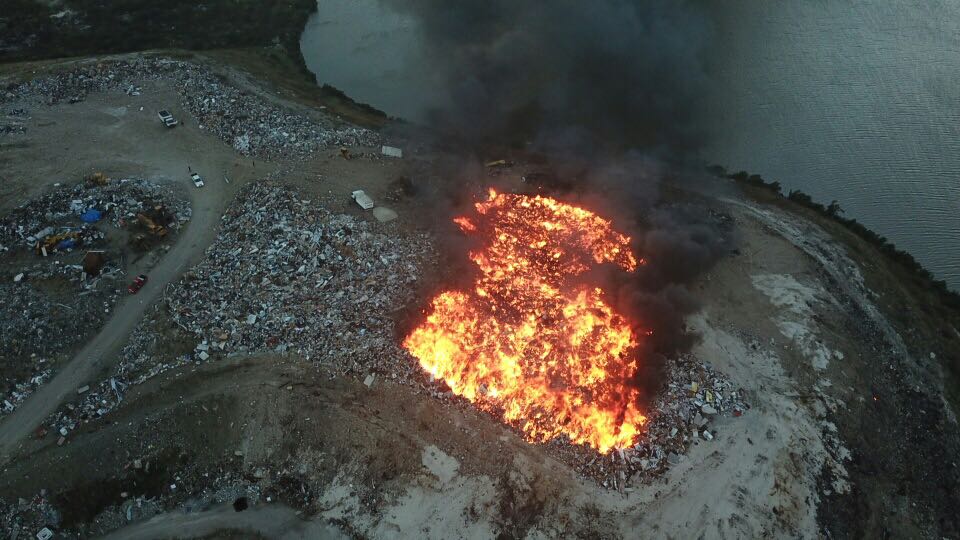 ​HARBOUR VIEW–"Every time the landfill is set ablaze the people, the tourist product and environment suffer," said the Social Economic Council SER in a press statement Thursday, urging government to tackle the country's dump crisis "post haste."
Two fires, thought to have been set by arsonists and the resulting thick smoke have blanketed parts of the country since Sunday. This forced a three-day shutdown of sections of government, numerous schools and businesses. SER also expressed concerns about the impact airborne pollutants resulting from constant fires and toxic smoke might have on the population's health.
Although St. Maarten Medical Center has not yet reported any increase in respiratory-related cases, SER said high risk groups such as senior citizens, children and asthma sufferers remain at risk due to high sensitivity and/or high exposure from the smoke coming from the landfill. This is apart from more long-term effects that may not be noticeable for years to come. Government is urged by SER to take up its recommendations set out its unsolicited advice titled "Better Waste Management for St. Maarten." The advice was published in the National Gazette of March 2017.The dump crisis is "critical and urgent," said SER in the advice penned in December 2016. "These problems go beyond party politics and should not be attributed to the past, present and/or future government(s). Tackling the landfill is a concern for everyone in the community and should not be viewed as a political issue."
The advice recommended that government resume cooperation with the French side in the pursuit of an integrated waste management system, not a waste-to-energy facility for the country.
The adoption of an integrated waste management system similar to the French side that is focused on waste minimization, reuse, recycle and covering issues related to the health and ecology of the landfill was urged by SER. This approach would be better and less burdensome on taxpayers, SER believes, as the quoted price in 2010 for a waste-to-energy plant was in the area of US $115 million.
Another recommendation from the advice was to start, with immediate effect, separating the various waste streams on the landfill with the aim to sell various waste-stream products. This includes the efficient sorting of the garbage such as the removal of recyclable and toxic materials. Management plans should ideally encompass operational requirements with appropriate guidelines/standards, including capacity building and regular monitoring against fires, stated SER.Government was urged by SER to start a public awareness campaign to promote reduction of waste at household and community levels. Waste reduction should include use of clean technologies, reuse, separation and recycling.
SER had encouraged Government to immediately resume and renew the cooperation between the municipality of Amsterdam and St. Maarten for mainly the exchange of knowledge and experience in the areas of waste management and environment. This agreement expired on October 16, 2017. Amsterdam, based on its working relationship with St. Maarten, officially offered to dispose at least 50 per cent of the present landfill. This offer would significantly aid Government in disposal of existing waste. Government should update legal framework for waste management in line with international standards and place more focus on enforcement measures, SER cited in its more-than-a-year-old advice. The council had further said government should also incorporate best practices from the Dutch Kingdom and adopt European Union/international standards in waste management. By doing so, the locally separated products will be compatible with these markets.
An Environmental Sustainability ranking the Caribbean in 2014 established that as a Caribbean country, an alarming rate of waste is generated on the island.
Research has shown that St. Maarten has the highest municipal solid waste of the Caribbean that is generated in kilogrammes per capita per day which is: 9.7 kilogrammes. This is for a country that has limited land space to create a new or second landfill location.With the exception of 2015, the government spends an average of NAf. 2.4 million on the management of the landfill.
Although SER is an advisory body to Government, the Council of Ministers is not bound to follow the recommendations.